Indonesien 2018/19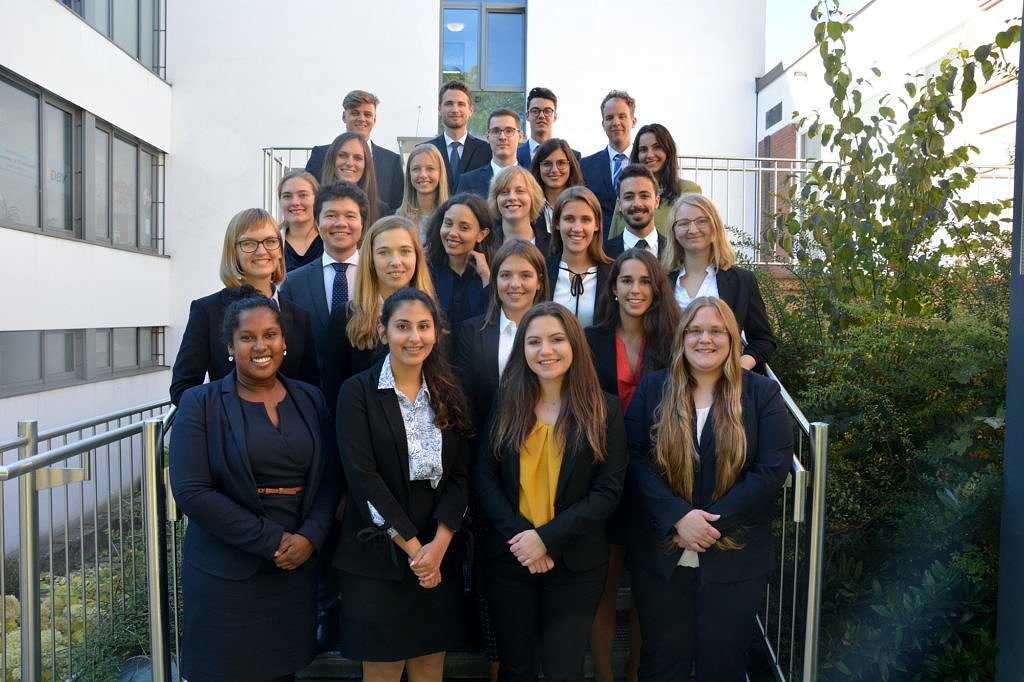 Projektleitung: Priya George und Elias Ruf
Head Delegates: Dorothee Karbe und Julian Werner
Bollinger, Sarah 

To me, the United Nations is one of the world's most important institutions, as it has the power to approach global problems and to foster communication between states. The UN is not only a great achievement of the past, but also remains a highly relevant institution in our increasingly globalized world. This becomes evident when looking at the numerous challenges that currently exist. The omnipresent inequality between countries, the emergence of conflicts, the growing number of forcibly displaced persons, and the devastating impacts of climate change are only some examples. In my opinion, these challenges cannot be solved unilaterally but depend on international cooperation. I believe that the UN has the responsibility and the power to tackle these problems and develop solutions for affected people and areas.
Boskamp, Ilse

Even if many people don't see it in their daily life, the United Nations is one of the most important institutions in the world. The UN may not have real executive power, but it is an important reason why we live in the world we used to know. The UN brings nearly every state in the world together and gives them the opportunity to discuss the problems which the world is currently facing and how they influence all of us. Thereby opposite parties of conflicts must listen to each other and what the world thinks about the conflict.

Brief, Jonas

Nowadays globalization is omnipresent in society. Conflicts aren't bound to one single country anymore but are multi-national occurrences. The United Nations acts as a regulator in difficult times, but also as a mentor and a visionary in times of change and progressive development. For me, the UN offers the unique opportunity of bringing countries closer together, encouraging them to build compromises instead of conflicts and providing them with a save and neutral environment, which is necessary for the whole process. It's the embodiment of a united world in which words, trust and conversations are the foundation of peaceful togetherness.   
Dietrich, Johanna

FAUMUN follows the basic principle of the FAU as a university to educate their students to be critical, responsible people who can use their learned skills and knowledge to act in an independent and responsible way for society. I am sure this project helps students to become aware of global issues like human rights or international peace and security. The practical experiences and the knowledge the students can acquire during this project will support them to grow to humans who can take over and reflect different perspectives and opinions in terms of political and social issues.
​
Dijoux, Sophie

To me, the United Nations is an organization that faced crucial challenges after World War II but managed to promote international partnerships and cooperation during 20th century. As international conflicts have become more complex after the Cold War, the United Nations proved that it has been capable to cope with different challenges. Nowadays, the UN contributes decisively to economic, cultural and political development by its numerous organizations like the UNESCO, the WHO or UNICEF. The United Nations supports the development of a secure environment all over the world, especially in terms of peacekeeping, peace making and peacebuilding.
 
Fackler, Magdalena

FAUMUN gives me as a student the unique opportunity to take a look behind the scenes of the United Nations: To what extent do states represent their own national interests and what is the real significance of the goals of the UN? How much can I contribute as an individual at all? What room for maneuvering do I have and where are limits set for me and the UN as a whole? On a scientific level, the project will be a great enrichment, providing new skills and knowledge that you would not learn otherwise. On a personal level, I hope for a further development of my personality and to meet other young committed students, which share the same ideals and values. The FAUMUN project is a challenge. It's a challenge I'm ready to face full of passion and the desire to make this world a better place.
Farag, Emanuel

Through diplomacy and constructive dialogue, the UN built a global system of international norms and laws, which helped bring peace upon a world which was troubled by two world wars and was on the brink of ending human civilization once and for all through a global nuclear war between the US and the Soviet Union. For that, the UN deserves my utmost respect because in my opinion, there is nothing more important than maintaining or working for world peace, human solidarity and respect for all cultures and world views.
Hahn, Anne

At the moment many aspects of politics directly affect our daily life – may it be the refugee's crisis or heat waves caused through climate change. Among others, such issues are tackled by the UN with global interventions. I have great interest in the work of the UN because this international institution brings together people from different cultures and mind-sets to work on solutions from which everyone can benefit. By participating in the FAUMUN project I aim to learn about how the UN works and how political decision-making processes are going on. I want to widen my horizon behind my curricular study routine and gain insights about multilateral diplomacy and negotiation, especially to understand why the work of the UN is also sometimes criticized. I find the idea of working in an interdisciplinary team with people from different faculties and experiences particularly motivating.
 
Hanyon, Samantha 

In our globalized world most issues are of international interest. Recent challenges such as the climate change and the refuge crisis show that these problems cannot be solved by one nation but that these issues require international collaboration. I belief that the UN is the place where solutions to such problems can be found. Furthermore the UN ensures peace and security in the world. Through the work of the UN humanitarian aid, protection of the human rights, environmental protection and support of both social and economic growth is provided.
 
Hoffmann, Markus

Standing up for one's ideas and convincing people is crucial in any career. In my opinion FAUMUN is an ideal opportunity to broaden one's horizons and to improve one's soft skills. Physics develops critical thinking and quantitative modelling skills. However, as negotiation and communication skills are not part of my curriculum, FAUMUN would be a unique chance to complement my education in the social, political and international fields. Moreover, working in an interdisciplinary group will be an exciting new experience. This melting pot of students from various disciplines and backgrounds with their different approaches and knowledge, will be enriching for every participant. I hope to meet many motivated students and develop new perspectives. Stepping out of my comfort zone by giving speeches in front of hundreds of people and by representing interests that are potentially different from my own point of view will certainly help me in my personal and professional development.
Jalali, Jasmin Pardis

The UN tries to – put simply – make the world a better place. Be it by supporting human rights, ensuring a good health care system all over the world or by providing access to clean water. Moreover, the UN connects not only people but also countries. It offers on the one hand a basis for global communication and discussions. On the other hand, it symbolizes a chance to work together for example by trying to make education more accessible, especially in poorer countries, trying to solve conflicts by mediating or even raising awareness regarding current problems. That does not necessarily mean that they achieve all their goals but trying is a good start.
 
Kilo, Johanna

I have always been fascinated by the inner workings of the United Nations, as it brings different opinions and views together in order to find a common ground and reach a compromise that is acceptable to all. As a delegate, I hope to meet many different people from different backgrounds and to have interesting discussions. The project offers the unique opportunity of changing our point of view, by solving problems not from a German perspective, but rather as representatives of a different country. I am looking forward to mastering these challenges. We will use our acquired negotiating skills to confidently and strongly represent our opinions and convince the other parties, while working together as a team. This will help me to speak more confidently in front of large groups of people and to stand up for my own opinion.
Kühn, Helen

In a world facing global challenges the United Nations facilitates cooperation and dialogue among its member countries, allowing them to jointly find and establish universal solutions. Putting "we, the people" in the center of its ambitions, the United Nations is the only international organization with the aim of nothing less than improving the life of each individual human being in the areas of nutrition, education, health, security and freedom. Setting ambitious goals such as the eradication of poverty, promoting universal primary education and combatting global warming, the United Nations has successfully established moral guidelines for the global society. Beyond that the United Nations have created a fertile framework for multilateral cooperation resulting in countless successful missions regarding peacekeeping, humanitarian aid and sustainable development. For the aspects stated I view the United Nations as an indispensable organization in the globalized world.
 
Leisenheimer, Luisa

FAUMUN is going to challenge us as students and as individuals. We are going to learn a lot, not only about the United Nations but also about ourselves and our limits. Meeting young people from all over the world and establishing relationships will inspire us in so many ways. It will have an impact on how we see the world. We have the unique chance to bring new experiences to the university and thus inspire others. Due to the project's international character we will change the way we tackle issues and the way we solve problems. It will not only shape characters but it will also influence other students and the academic, social and cultural life at the university.
 
von der Marwitz, Riccarda

In our time of globalization, we have an enormous economic and social growth worldwide. Trade has become international and openly and the living standard has increased. But unfortunately, there are also negative consequences like worldwide environmental pollution, which supports global warming, or social differences, which are causing wars, abuse, and suppression. All these issues cannot be solved by a single country, but rather require coordinated efforts by many countries. For such a cooperation we have the United Nations. The United Nations is offering a platform, which provides almost every nation the possibility to be represented and to take part in assemblies and discussions. On this account, the UN is one of the most important institutions we have in order to handle global conflicts. Furthermore, it has the possibility to give the world awareness of problems that have to be solved. From my point of view, the United Nations will become even more important in our future, because of the continuing progress of globalization.
 
Michael, Luise

The UN is a great organization that helps to make usage of the globalization in a marvelous way. People representing 193 different countries from around the globe discuss important issues that affect a huge amount of people if not the entire population of planet earth and do their best to find consensus and solutions considering the requests of every party involved. In the setting where conflicts are dealt with verbally and every point of view is allowed to be expressed and paid attention to, it is easier for countries involved in a conflict with each other to get in touch again in a peaceful way. Giving every member state the possibility to illustrate its point of view also helps to get an overview of the constellation of national interests leading to global events. Thus, to me, the UN is a pivotal organization in terms of global peacebuilding.
Möwes, Artemi 

I have gained a lot from my MUN experience in my high school years. I haven't only changed my way of thinking, but I started caring about recent political, economical and humanitarian topics. Acknowledging my last partake in the MUN, I strongly believe that in order to accomplish a change, we must be well informed, prepared and interested about the situation on our planet. By being a part of the FAUMUN delegation I hope to improve my skills, face challenges, find solutions and make connections that will hopefully last a lifetime. I would like to step out of my comfort-zone and be brave enough to participate as much as possible. Making a difference has since been my mantra and the FAUMUN will take me one step closer to my goal.
Schwarz, Paula

First of all, I am convinced that taking part in the project will help me to further develop personal skills in the field of presentations and negotiations through professional training and practice. I am convinced that these skills will help me in the future, whether it is in private or professional life. Furthermore, the project is a great opportunity for me in order to meet young people from all over the world and to gain further intercultural experience, which will surely broaden my mind and knowledge. In addition, I am very curious about to gain a deeper insight into the work of the United Nations and how compromises can be shaped so that all parties involved are satisfied.
Stadelmann, Felix

For me, the United Nations is a unique organization of utmost importance as it provides a neutral space for all nations to discuss, negotiate and act. As nationalism, populism and tensions are rising the effort to find consensus and solutions for complex problems remains indispensable. It reminds the countries to fight global problems together and extend policies beyond national borders. Climate change, inequality, human rights and health are just a few examples of burning issues where countries must work together to succeed in the long run. With the UN development programs and institutions worldwide, the United Nations provides essential infrastructure to approach problems. I believe that when countries work together they can overcome problems that seem unsolvable for a single nation itself. That is why the United Nations is for me a unique and imperative organization.
Weth, Ingo

Topics related to foreign policy and the United Nations always fascinated me. Contact to involved persons or even practical experience is hard to get, which is why FAUMUN is an outstanding program, providing a once-in-a-lifetime possibility. Furthermore, getting to know diverse challenges of worldwide relevance and growing on them is the ideal complement for studies. Especially experiences, knowledge and strong personalities that have a different background than my economic one, are highly interesting in order to ensure an integral worldview, not only concentrating on one aspect of many. Learning how to negotiate in a successful way, building coalitions and convincing others are fundamental skills that are of high importance in almost every career. Hence, I'm curious to develop those and gain new ones throughout my time with FAUMUN. The program unites many of my interests and goals and is consequently the ideal companion for the next step.