FAUMUN Delegation 2024 Kick Off
Embarking on the journey of the FAUMUN Delegation 2024!
This Tuesday, the upcoming Delegation got together for the first time to start their Model UN journey. The first order of business was getting to know the organizational team as well as our fellow delegates. What better way to do that than some fun and interactive icebreaker questions, which filled the room with laughter and friendly chatter. The day continued with a glance into what the semester is going to look like. From Monda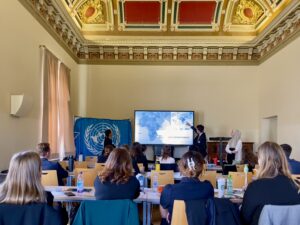 y meetings to conferences, the schedule gave the delegates a clear picture of the exciting journey ahead. Before going into a well-deserved lunch break, we discussed the dress code, and it was clear that professionalism and looking confident while being comfortable when representing our delegation and our country is essential. Of course, no first delegation meeting is complete without capturing memories. We took plenty of pictures of both the whole delegation as well as individual headshots, where each and every delegate was cheered on by the entire team. An integral part of the meeting was a series of enlightening presentations about the United Nations where we delved into the UN's history, understanding its various organs and functions and the profound significance of the Sustainable Development Goals. These presentations not only served as a knowledge base but also as the first time we worked together in teams and got to witness our colleague's public speaking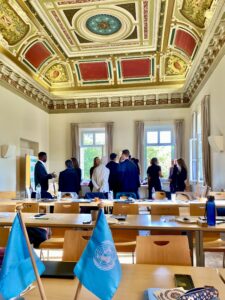 skills. Lastly, we were introduced to the FAUMUN alumni association United Nations Society Nuremberg e.V., followed by the allocation of personal SDGs to all delegates to look out for during the project.
Overall, the day was filled with lots of new information and faces and made all of us excited for what's to come! As we left the meeting room that evening, we were not just a group of strangers, but a newly built team ready to tackle the challenges and opportunities the world of diplomacy has to offer.
A wholehearted thank you goes out to Anabel, Sophia, Kai, and Julia who organized and planned this day for us to ensure we had a memorable experience.