Call for Applications for FAUMUN Delegation 2022/23 open until August 1, 2022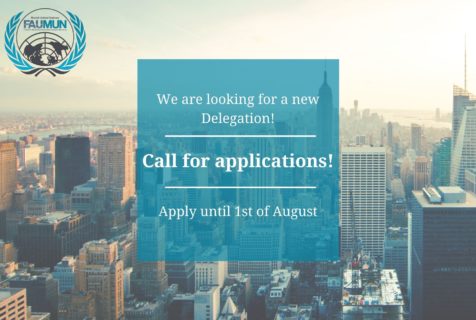 Application period for our FAUMUN Delegation 2022/23 is open until August 1, 2022!
Become a member of our next delegation!
Learn about the work of the UN, discuss current world issues with fellow students from different backgrounds, improve your negotiation and public speaking skills, get the opportunity to speak with experts from different fields and participate in various Model UN (MUN) conferences, including in Erlangen, Munich, Nuremberg and New York City.
Here you'll find all the necessary information for applying.
On June 22, 2022, at 5 pm, we are having a Q&Q night in the Juridicum building of the FAU. See our social media for further information on coming Q&A nights and information booths on campus.
If you have any questions regarding the program, please feel free to contact us. You can email us at organisation@faumun.org or send us a message via Facebook or Instagram.
We are looking forward to your applications!