FAUMUN Delegation 2020/21 – A recap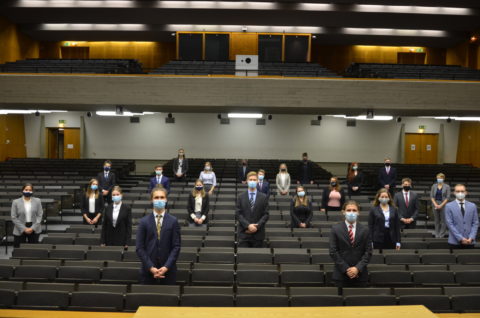 The FAUMUN Delegation of 2020/21 had a very challenging MUN year! The Corona Pandemic forced the seminar to go completely online. This proved to be a challenging task for the organisation team and the entire delegation.  
In the beginning, we weren't very enthusiastic about an online MUN year. However, we found out that online conferences are not only quite enjoyable, but can also have advantages. The FAUMUN delegation participated at three different MUN conferences. The first one – MiniMUN – was hosted by Erlangen, where our friends from NMUN Bamberg joined us. In December, we participated successfully at the BaMUN hosted by Bamberg, where the delegations of the universities of Bamberg and Erfurt were also present. The FAUMUN delegates performed extremely well and collected many awards! Our last conference was also the biggest one: BayernMUN took place at the end of February, also online. Here, we simulated a General Assembly and a Security Council. For the first time, we also had international delegations at a MUN conference. Like in the previous conferences, the FAUMUN delegates were able to perform very well.  
Despite the uneasy feeling we had in the beginning about organizing a MUN seminar almost entirely in the virtual world, it was definitely worth it! We are extremely proud of our delegates who were always motivated and made the best of the situation, and who were able to make significant development even though they could not have the experience of an in-person conference.  
A full report will be uploaded soon!