FAUMUN Alumni Delegation attended NMUN Germany in Erfurt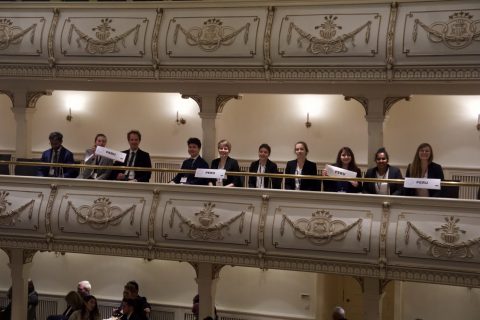 6.00 am, Wednesday 27th November 2019. At this time, the trip of our Alumni Delegation to NMUN Germany in Erfurt started. Our trip was not without delay, as one delegate overslept by 45 minutes, but luckily our organization team had planned with hick-ups and we arrived at the opening ceremony on time.
Two delegations worked in the International Atomic Energy Agency (IAEA) – Iran and Peru. The rest of the delegation represented Peru in the Security Council (SC), the General Assembly (GA) and the Human Rights Council (HRC).
Ahead of us were days of work, lots of frustration, but most of all lots of fun. So in short, it was the normal MUN experience. What made this MUN so special were two things. First of all, the federal president Frank Walter Steinmeier visited our conference. In his speech, he shared experiences from his time as a foreign minister and encouraged us to work for multilateral cooperation and peace, but also to foster new relations, as relations represent the foundation of any diplomacy. He also visited the IAEA, SC and GA committees and talked to the delegates. One of our delegates in the GA even had the chance to give a speech in front of the president. The second thing that made this MUN conference so special was the atmosphere in our delegation. We were delegates from 4 different FAUMUN years, all of whom are somewhat addicted to the MUN experience. All of us were deeply committed to having the best possible time and to make sure that everyone would remember this experience as something profoundly special, especially because we don't get to see each other all that often anymore.
Our commitment to each other was rewarded on the last day when the Delegation Awards were presented. The honorable mention and distinguished delegation awards were presented without mention of either Iran or Peru. This meant that either all of us had been immensely successful, or that sadly, we would not be recognized. But when the executive director of the NMUN conference had trouble pronouncing the name of the next outstanding university – Friedrich-Alexander-Universitaet Erlangen-Nuernberg really is a mouthful – we knew that at least one of our delegations had won an award. And when he apologized a second time for his pronunciation, we knew:  both of our delegations, all of our delegates, had won the Outstanding Delegation Award. Though we didn't come to Erfurt to be recognized, but only to have the best time we possibly could, we were extremely happy about this success, because it proved that our delegation was not only a group of great friends, but also capable of immensely successful cooperation.
I for one, after two years of organizing the MUN project at the FAU university, had forgotten what fun it was to be a delegate. But all of us were elated about our participation in NMUN Germany and extremely fond of all of the memories we forged.  So now we are planning the next Alumni Delegation – 2021 in the Czech Republic. Feel free to join us – we hope to renew the blast that we had at NMUN Germany.
– Dorothee Karbe